CSA Week 1! It's back! First pickup was last Wednesday.

1 bunch haukerei turnips
1 bunch French breakfast radishes
.5 pound mesclun salad greens
1 bunch arugula
1 bunch tatsoi spinach
1 bunch cilantro

That's a lot of greens! Yay, salad. And what's not greens is oh-so-sexy root veggies like radishes and turnips! The turnips are still uneaten, as is some of the cilantro– I actually took Kenji's advice to stick it in the fridge with water and a ziploc bag this time and it appears to be holding up somehow!

But, anyway. There were radishes and cilantro. That seemed like an obvious indication that the time was right for a Taco Night: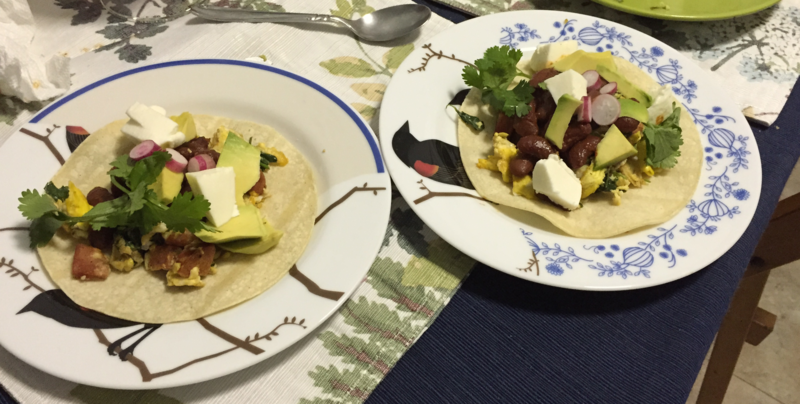 Breakfast tacos, to be exact: Egg, chorizo, cilantro, kidney beans, chipotle, radish, avocado, mozzarella. The avocado was sadly underripe, but otherwise it worked quite well.

...

Also the co-op's annual meeting is tonight and the crazy old gadfly is making noises about suing the board because they don't want to put in FiOS (well, among other reasons). Gonna be more fun than an oil tanker of prosimians, yeah.