Happy New Year. Or something.

Three CSA pickups, over a long time. There was a week off for Christmas/New Year's, and then last week– which would have been the final winter pickup– was delayed a week for the blizzard. So the final pickup is tomorrow.

Winter CSA Week 3:

1 head broccoli
1/2 lb. salad mix
1 package frozen tomato puree
1 package frozen bell peppers (mostly red)
1 bunch leeks
1/2 lb. braising mix
1 lb. sweet potatoes
1 piece celeriac
2 lbs. carrots

This wasn't the most original stretch of time; I was in NJ a lot. We did make sweet potato and celeriac latkes at
mere_bagatelle's parents right around (just after? I forget) Hannukah, which was fitting and quite tasty.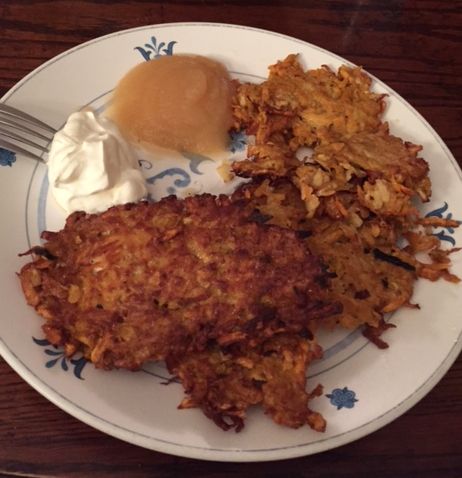 Winter CSA Week 4:
1 package frozen haricots vert
1 package frozen tomato puree
1 butternut squash
1 head garlic
1 head red cabbage
2 lbs carrots
2 lbs onions
2 lbs red potatoes

Best thing did not get pictures: it was a post-Christmas soup I made with kielbasa fresh from the Jerz (and, of course, the kielbasa water), all vegetabled up with some garlic, onion, carrot, tomato puree, coupla potatoes, herbs-n-spices, and the whole goddamn red cabbage. Mind you, it was a tiny cabbage. The most beautiful tiny red cabbage I ever did see. So not as INSANE-O CABBAGEY as that sounds. But still pretty cabbagey.

Winter CSA Week 5:
1 package frozen tomato puree
1 package frozen bell peppers (mostly red)
2 heads garlic
1 butternut squash
9 potatoes
6 red onions
4 beets
12 carrots

They didn't have a packing list, and I actually wasn't the one to pick it up (taking a civil service exam), so just had to count after the fact. Probably the winner this time came in late at the buzzer– arepas, topped with mozzarella, avocado, and a melange of chorizo, corn (which was CSA, actually- in our freezer from the summer!), some of the frozen red peppers, onion, garlic, and a squirt of tomato paste.