Remind me to never get this behind again.

CSA Week 14:

1 bunch beets
4 ears corn
1 head lettuce
2 heads garlic
.5 pounds green beans
2 pounds heirloom tomatoes
1 pound cherry tomatoes

This was a long time ago! I assume I used the tomatoes to make some sort of homemade pasta sauce, that's kind of what I always do with tomatoes. This was also around the time I had to go to NJ for a long stretch to help my mom out while Dad was on vacation. So, probably not much got cooked.

CSA Week 15:
uhhhhhh

They did not send a packing list, and it was so long ago that I can't remember what we had. A near-total loss down the memory hole. Ugh, that'll teach me.

I have a picture of salmon fillet, served with roasted potatoes and buttered almond green beans, that may have come from Week 15? I think there was also corn, and tomatoes, and fingerling radishes. Couple other things that are lost to the mists of time, as well. I seem to recall it was not the biggest week.




CSA Week 16:
1 head lettuce
.5 pound haricots verts
1 pound heirloom tomatoes
1 pound beefsteak tomatoes
2 heads garlic
4 ears sweet corn
1 bunch carrots
12 delicata squash
Fruit! lots and lots of pears

I worked my first shift this week, and thus was able to bring home a bunch of pears along with the usual veggies! We don't normally do the fruit share but the pears were quite tasty. Also, I swapped out the lettuce for another squash, because squash is The Best and lettuce is The Worst.

Unsurprisingly, the best meal this week was stuffed delicata squash (with sausage, onion, breadcrumbs, cheese, herbs/spices/etc.) No pic.

CSA Week 17:
1 head baby bok choy
1 bunch leeks
1 pound tomatoes
1 head cauliflower
1 bunch Japanese turnips
1 bunch chiogga beets
1 orange winter squash
.5 pounds haircots verts

This week was the Week Of Cooking Intensely. Basically all the best things from the past month happened this week. First off, there was the squash soup, with the orange squash and, from the previous week, garlic and carrots and the other delicata, with onion, chicken stock, spices (rosemary/nutmeg/ginger/s&p/etc.). And topped with roasted squash seeds! There's a little left in the freezer too.




There was also the leek omelet, which I made Saturday morning with some Brie and served with bread generously brought by a friend of ours staying with us to catch some opera. Bread not pictured.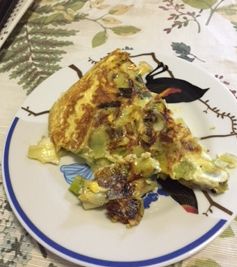 And the chiogga beets (which have a lovely red and white marbling) were roasted with the cauliflower for Sunday breakfast along with more bread and jams. Simple, but pretty striking IMO. You can see the bread there (it was a whole wheat sourdough).




CSA Week 18:
1 head broccoli
1 pound potatoes
1 bunch Bull's Blood beets
1 bunch radishes
.5 pound spinach
1 pound red onions
1 head lettuce
1 pound tomatoes

This was a pretty boring week. I think that fried rice with radishes was probably the tastiest meal, and that was just lunch for myself. The Bull's Blood beets were kinda weird; they seem to mainly be grown for their deep red greens, while the roots were tiny. I guess that's interesting- new veggies usually are- but it wasn't my favorite. I feel like I ought to do more with those sorts of greens but they wilt fast and they're not my favorite TBH.

CSA Week 19:
1 head cauliflower
2 pounds sweet potatoes
1 bunch baby bok choy
1 bunch turnips
.5 pound spinach
1 pound white onions
1 head lettuce
1 pound tomatoes
Fruit!
.5 pound concord grapes
1 pound Cortland apples
1 pound prune plums

I did our other shift last week, and again took advance of being there at the end to get some fruit. Didn't cook anything too amazing; probably the tastiest meal- if not the most complicated- was pasta topped with the spinach, some canned salmon, lemon, garlic, and grated cheese.

What was amazing is that the sweet potatoes mostly came as one GIANT potato, which is still hanging around. Should get a pic of it before we cut it up. Also, fruit! I gravitated toward the plums,
mere_bagatelle took the grapes, the apples are still waiting their turn.