So behind.

CSA Week 10:

.5 lb. salad mix
1 pint cherry tomatoes
1 pound onions
3 ears corn
1 lb. zucchini
1 lb. cucumbers
1 lb. carrots
1 eggplant

I feel like there might have been a picture of something, maybe it was lost to time. Pretty sure the winner was a repeat of eggplant parm. (Maybe with corn on the side? I can't remember.) The cherry tomatoes were donated; the salad mix went unused. Sometimes I'll try to make myself salad but I just did not have the will to do so this month. Lettuce is such a waste in these baskets.

CSA Week 11:
1 bunch cilantro
1 bunch leeks
1 head cauliflower
2 carmen (green bell) peppers
1 head lettuce
1.5 pounds tomatoes
1 bunch baby bok choy
1 pound squash/zucchini

The winner this week was nachos, baked in the oven with cheddar cheese, and topped with avocado and a homemade salsa consisting of the tomatoes, some of the cilantro, the remainder of the previous week's corn, some salt and chipotle.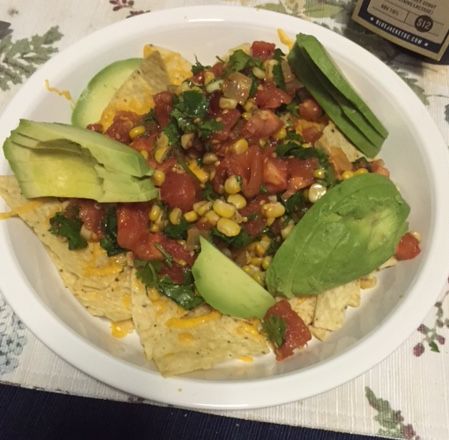 There is somehow still some cilantro and it might still somehow be edible.

CSA Week 12:
Ug... I remember that the newsletter was incomplete and wrong, I don't remember exactly how. Here's my best reconstruction:
5 ears corn
1 pound cherry tomatoes
1.5 pounds heirloom tomatoes
1 bunch rapini
2 white onions
1 head lettuce
1 mini cantaloupe
1 bunch parsley
I think something else?

The previous week's bok choy (which I had forgotten about but somehow held up better than your usual greens) went with corn and a tuna steak, seasoned with ginger and soy, like so:




As is so often the case, the tomatoes were donated and the lettuce wasted. Alas.

CSA Week 13:
3 white potatoes
2 lbs heirloom tomatoes
1 lb. Juliet tomatoes (larger than cherry, smaller than regular)
1 giant cucumber
1 bunch kale
1 bunch leeks
1 head lettuce
1 bunch radishes
.5 lbs green beans

The fancy meal was corn (leftover), almond-butter green beans, and some chicken that I pan-fried with barbecue sauce. In the absence of a grill this is what counts as summer food. No picture, sorry.