Three weeks. I'm slacking. But pictures are back!

CSA Week 7:
1.5 lbs. zucchini/summer squash
.5 lb. green beans
1 bunch Italian parsley
2 onions
1 bunch turnips
1 lb. cucumbers
1 bunch carrots
1 head broccoli

This was awhile ago now, yeesh. Anyway, the obvious showcase of the week was pork chops pan-fried with onion and peach (and assorted spices), served with a side of green beans (seasoned with butter and chopped almonds) and roasted turnips (seasoned with salt/pepper/rosemary):




Other things happened that I've mostly forgotten about.

CSA Week 8:

1 lb. kirby cucumbers
1 lb. regular cucumbers
1 eggplant
1 head broccoli
1 head lettuce
1 head napa cabbage
1 bunch chiogga beets
1.5 lbs. squash/zucchini

Apparently chiogga beets are tiny and their flesh is marbled white/red rather than just being red. We had them in chunks with fresh mozzarella and sprinkled with salt/olive oil, like some ersatz caprese salad. But by far the most involved thing I made that week was an eggplant parm (featuring a homemade sauce with canned plum tomatoes, a bit of the zucchini/previous week's onion, and an anchovy for extra umami):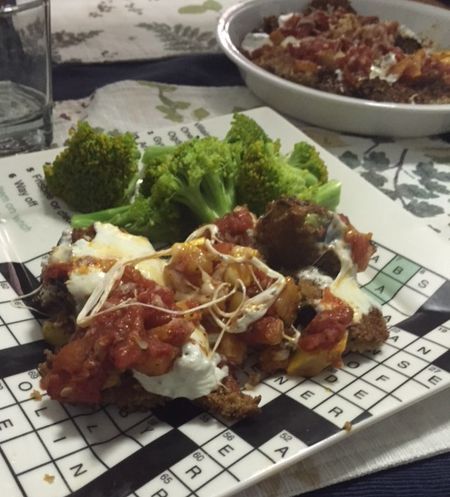 Sadly the broccoli was not the freshest-looking, though it tasted fine. I know kirby cucumbers are mostly used for pickling, but I didn't bother with that, which may have been a mistake. Regular cukes taste far better in their natural state than kirbies.

And, Week 9, this past week:

1 lb. cucumbers
1.5 lbs. zucchini
1 head lettuce (lettuce is a waste of time, we took advantage of the swap box to get another zucchini instead)
2 heads garlic
1.5 lbs. red potatoes
3 ears sweet corn
1 bunch Japanese turnips
1 small green pepper
1 head broccoli

The most photogenic (and delicious) thing was some poached salmon with corn and broccoli on the side. The salmon was seasoned with lemon, butter, dill, salt, pepper and a clove of garlic; and we got it from this fish market near our usual supermarket that we've always wanted to try but never get around to. The corn and broccoli were boiled plain– broccoli is one of the only veggies where I actually think that's a good way to make it.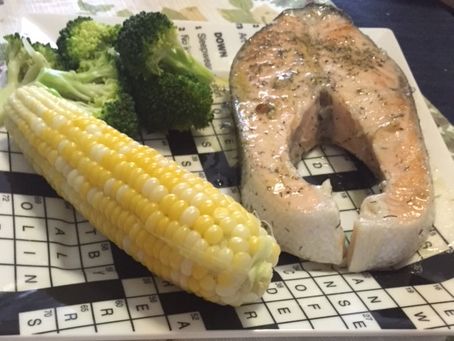 In addition, I used up most of the napa cabbage and some earlier parsley making a soup that also featured garlic, turnips, sage sausage, tomato, various herbs and spices, etc. That was one lunch and the rest is frozen for another day.